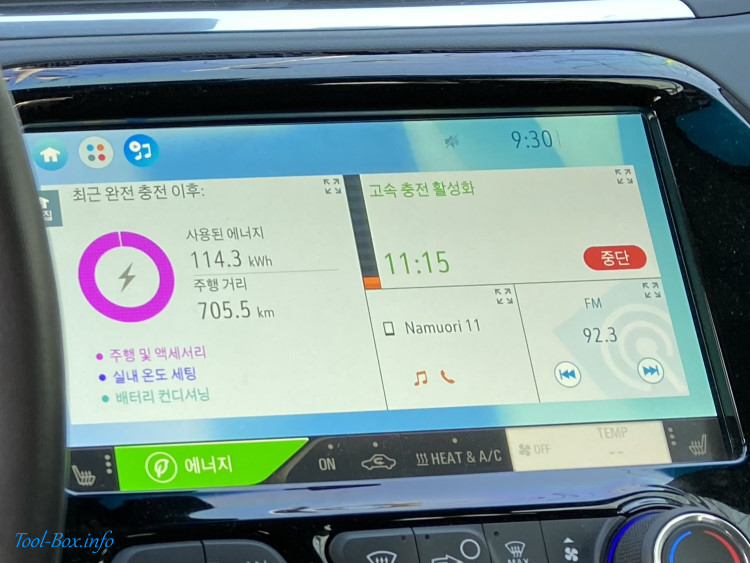 There have been some wild changes in outside temperature during the past week. On Wednesday, February 17, it dropped to as low as about -10C (14F) and stayed consistently low. In contrast, it went up as high as 21C (70F) on Sunday, February 21. It just so happened that I needed to drive my Bolt EV from Naju to Seoul and back on those days. I did anticipate a big difference in drivable range between them, but it was still a bit jarring to experience it firsthand in such a short period.
The trips were made mostly on the same corridor of Honam / Cheonan-Nonsan / Gyeongbu expressways, which took up about 80% of the total distance and where I drove at a speed of 100 km/h (62 mph) on the dashboard. On other roads, the speed limits were always observed. I did not use any heating or air conditioning at all, as evidenced by the pie chart on the screen showing that all the energy was spent for driving.
A Naju-Seoul trip, which is roughly 320 km (200 miles) one way, can be made without a pit stop if the temperatures are above freezing. On Wednesday, I saw the drivable range drop considerably shortly after starting out. Although the battery was initially nearly full, I needed to stop and recharge mid-way, just enough so that I wouldn't be late for the schedule. The temperatures stayed between -8C and -5C (18F and 23F).
The return trip was the same - I filled up the car before starting, but had to recharge at the last service area to give myself a bit of safety margin. In the end 114.3 kWh was spent during the total trip distance of 705.5 km (438.4 miles), resulting in an
efficiency of 6.17 km/kWh (3.84 mi/kWh)
. Given that I only try to spend a maximum of about 50 kWh on a single charge, you can see why I had to do the pit stops.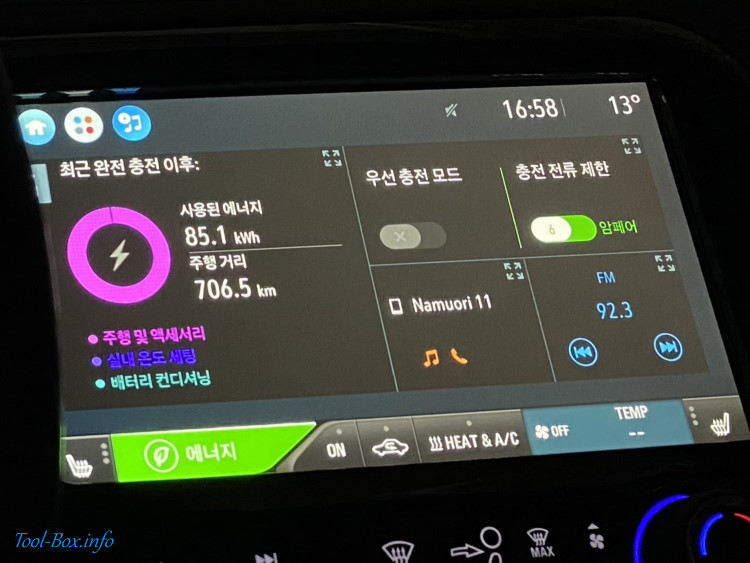 The situation on Sunday was completely different. It was exceptionally warm for Winter and I could foresee that I would reach Seoul quite comfortably on a single charge. Indeed, the temperature stayed around 20C (68F) for most of the trip until the Sun set. The dashboard showed about 100 km (62 miles) of range left when I reached the hotel.
The next day wasn't much different, although slightly cooler. I was returning to Naju with a full charge while the outside temperature was mostly in the 15C to 20C range (59F to 68F). Total distance of 706.5 km (439.0 miles) was covered using just 85.1 kWh, which gives an
efficiency of 8.30 km/kWh (5.16 mi/kWh)
.
To put this into perspective,
the efficiency was reduced by 25.7% just because the temperatures dropped by 23C (42F)
and all other things remained more or less the same. Had I used heating, things would have been worse. This highlights how sensitive the electric vehicles are to outside conditions.