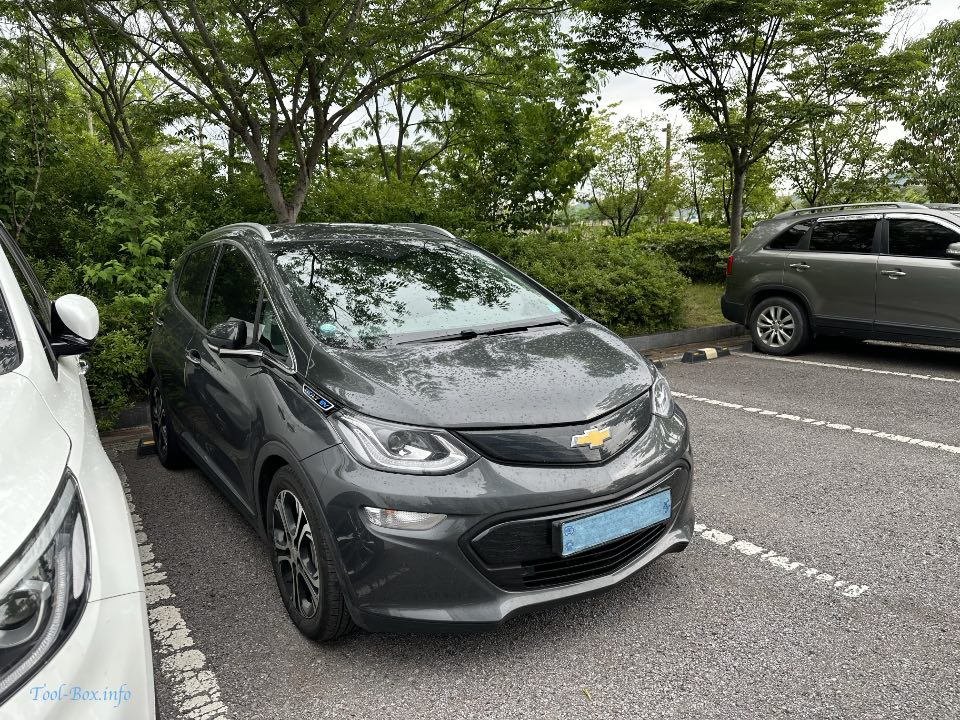 My Bolt EV has turned five this month, as it racked up more than 130 thousand kilometers on its odometer. It's fairly efficient and low maintenance, so I'll keep driving it as the primary vehicle for several more years. It definitely has some downsides like the poor fast charging performance, but I've gotten used to it. Let's see how it's been doing all this time.
You can watch the YouTube video
or keep reading below.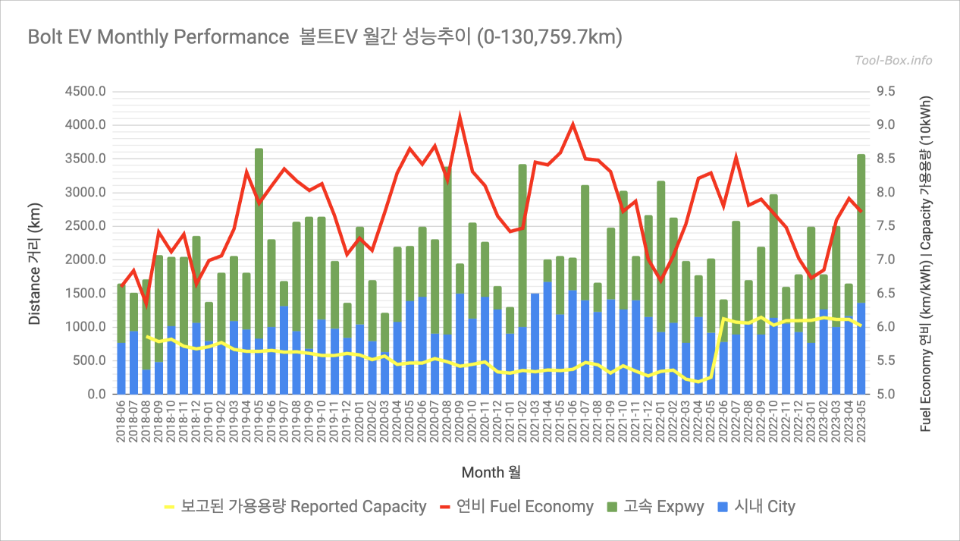 As you can see here, I generally drive about 1,500 to 2,500 km every month, for an average of 2,179.3 km. Lifetime efficiency is at 7.72 km/kWh, but it can get as high as 9 km/kWh in summer or drop to about 6.5 km/kWh in winter. As for the battery, it had been degrading stably for the first four years, then it was replaced with a new one. Interestingly enough, not only is the usable capacity larger by about 3 kWh, it's maintaining its capacity better than the original one. I'm going to be looking into this further at at later time.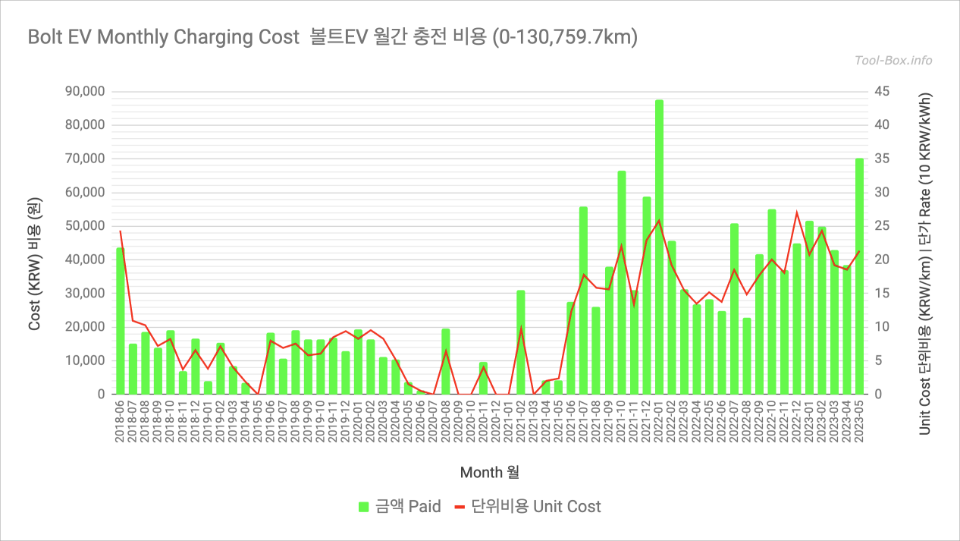 Charging cost saw a lot of changes largely due to changing government policies. Until the first half of 2020, special pricing enabled me to get around for less than KRW 20,000 per month. Once that started to sunset, I sought out free chargers, until they all dried up a year later. Since then I've been relying on fast charger subscription service to keep the costs down. It's more than twice what I paid in the early years, but is nevertheless much cheaper than fueling up an ICEV.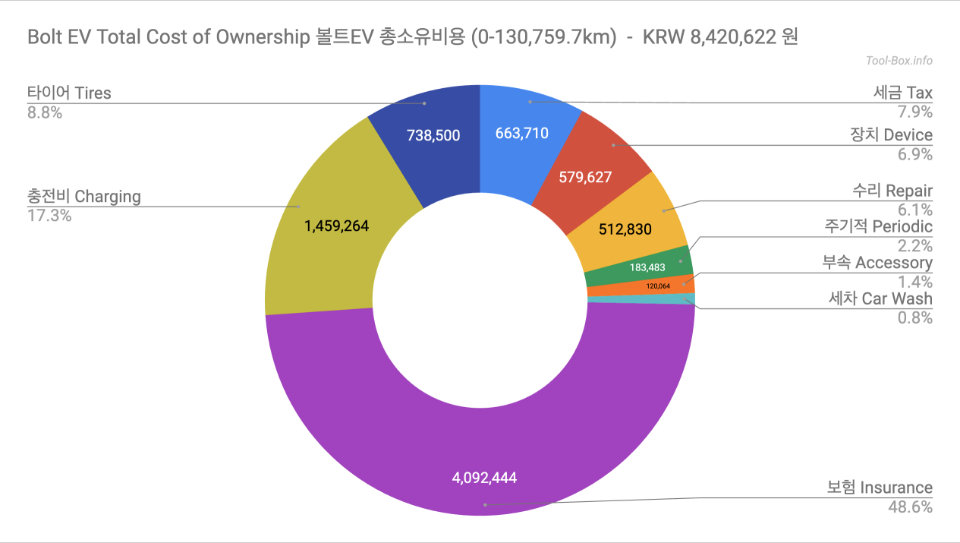 This meant that the charging cost was only a small portion (17.3%) of the total cost of ownership. The legal costs, including insurance and vehicle tax, made up more than half (56.5%) of the pie. General maintenance costs were so low that replacing tires took the biggest chunk.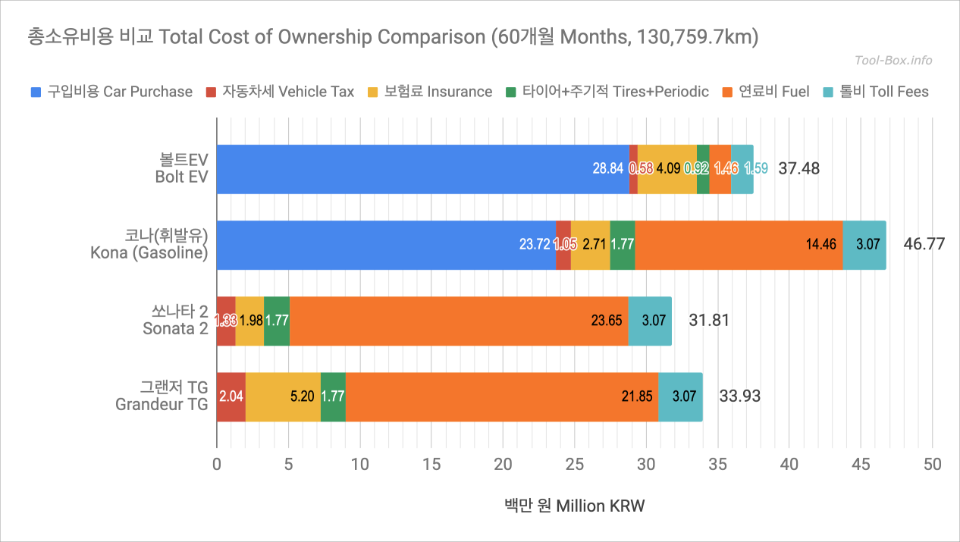 So when you compare this with other ICEVs, the results are quite favourable. After 5 years of driving, the gasoline version of Kona would have cost me more than KRW 9 million. Keeping the existing vehicles (Sonata 2 and Grandeur TG) running under the same conditions would have been cheaper at this point, but it looks like that won't be the case a year from now.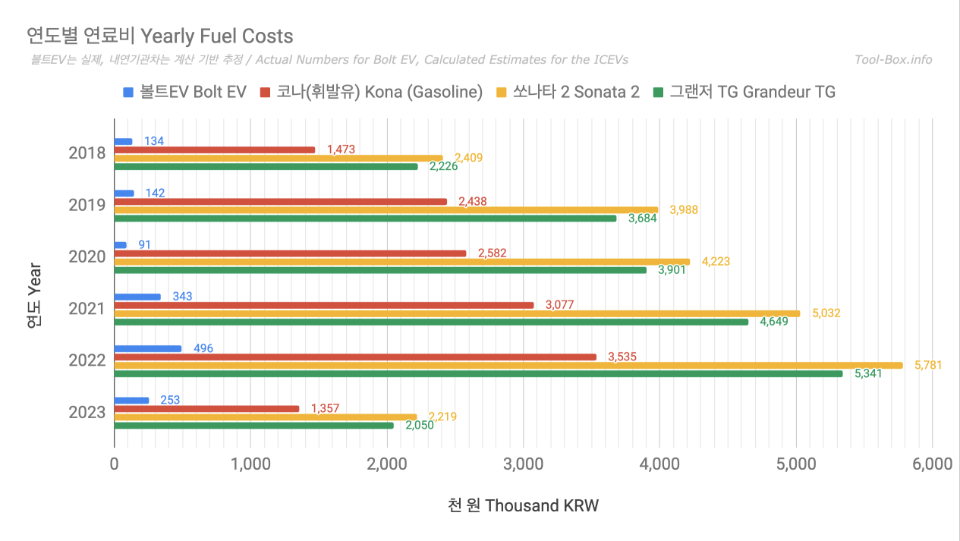 The fuel costs are largely responsible for this result. Although EV charging costs have gotten more expensive in the last two years, it still pales in comparison to the ICEVs' fueling costs. In fact, it's still roughly KRW 4 to 5 million more expensive per year. In other words, it makes the most economical sense to keep focusing on driving the Bolt EV.
All in all, my Bolt EV has been a great addition to my household. I hope it will continue to be so in the coming years.