Here's a short followup on how my Portable Athlon System is supposed to be carried. I've shown you how it looks like when it's in fully assembled manner, but you might have wondered or questioned if it was really that 'portable', not just a novelty item meant to impress people and just sit pretty. I had the occasion to bring my system to a certain magazine company for showing, and I took some time to take some photos on how my system is packed and carried.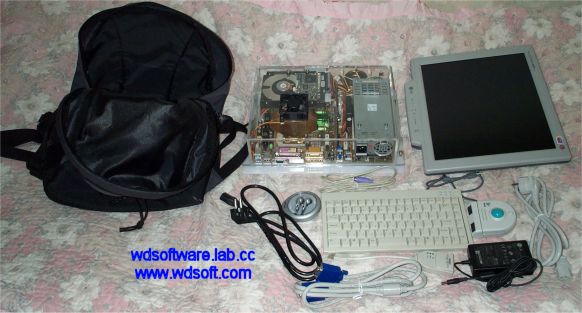 Here you see my system fully disassembled and be ready to move. Notice I have a backpack prepared for the sole purpose of carrying my system around. Instead of carrying the bulky speakers, though, I bring a pair of Philips earphones instead in order to take some load off the whole thing. You can see the earphones on the left of the mini-keyboard, in its carrying case. Other things to note are the AC/DC converter for the flat panel and some cables. With this, I can use my computer anywhere with an AC power outlet after unpacking and reassembling.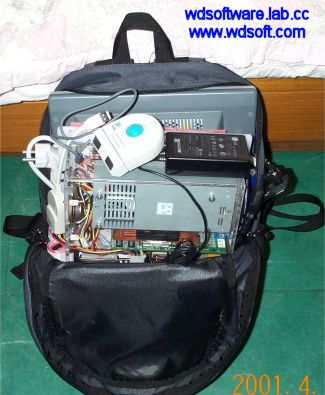 The flat panel sits on the back side of the bag, so that the cushion protects the delicate LCD. The system case is slid in front of the panel, and I usually place a foam sheet in between so that the hook and other stuff don't scratch each other off. The cables are stuff into the vacant space at the each side of the bag. To top off, the trackball and the converter gets the upper level. But there doesn't seem to be enough room for the keyboard...?