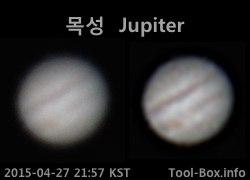 Processed image of Jupiter from an iPhone 6 Plus video recording
Lots of planetary photos from amateur astronomers seem to be derived from a small video camera attached to the telescope. I do have lots of smartphones that could serve a similar purpose, so decided to make use of them instead. Holding it steady in front of the eyepiece was a problem,
as evidenced by my earlier attempt
, so some sort of an adapter was needed.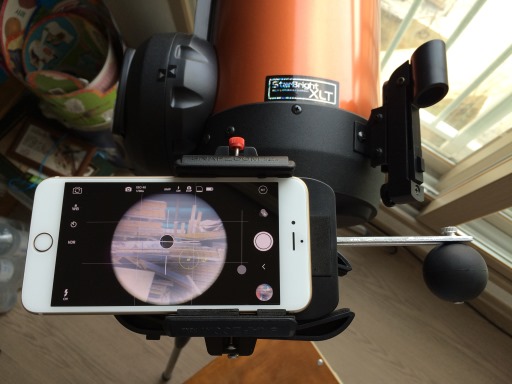 Attaching iPhone 6 Plus to Celestron telescope with Snapzoom adapter
This is where
Snapzoom digiscoping adapter
came in. I originally bought this several months ago to photograph stars using binoculars, but it could be made to work with telescopes by attaching an included weight. After lots of paddings here and there, my iPhone 6 Plus was able to fit into the adapter and work with the eyepieces that I owned.
Once my NexStar 6SE telescope was aligned with the stars so that I could track any celestial objects, I slid the phone-adapter-eyepiece assembly into the telescope and began looking at Jupiter and the Moon, the biggest targets.
And this is how Jupiter showed up on the screen. The bands and the Great Red Spot were faintly visible, just as I saw with my naked eyes. The shakiness due to the atmospheric turbulence was also quite apparent. I recorded the sight for two minutes and processed the resulting video through
PIPP
. Finally, the processed video was stacked and sharpened with RegiStax. The final result, as you saw at the beginning, has a more "natural" feel than the
ones from SX50 HS
for some reason.
Telescope: Celestron NexStar 6SE + 5mm eyepiece
Device: iPhone 6 Plus (afocal)
Settings: 29mm - 1920x1080 - 30fps - f/2.2
Filters: None
Time: 2015-04-27 21:57-59 KST
Location: Naju, Korea
300 frames stacked with RegiStax 6.1.0.8