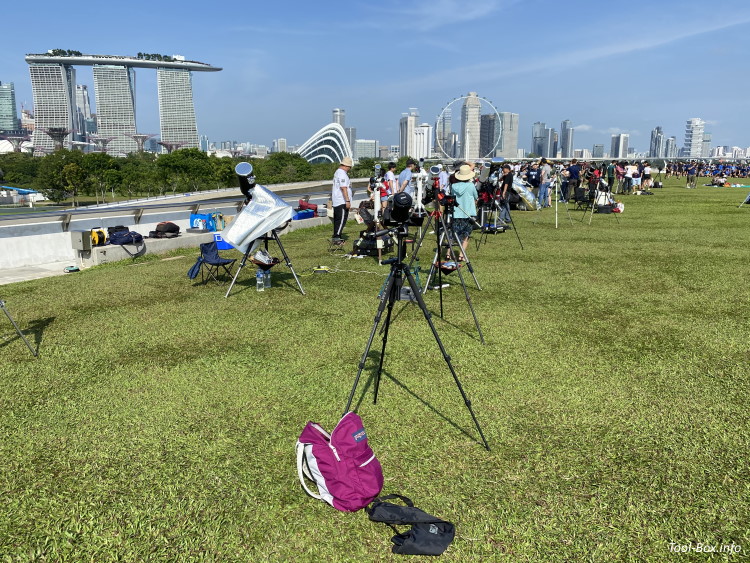 An annular solar eclipse happening on the Boxing Day in Singapore sounded like a great excuse to have a year-end family trip there, so I acted on it. As expected, multiple venues across the city-state provided spots for people to view and photograph the phenomenon. I picked Marina Barrage as it would have longer totality and snacks.
My family arrived nearly two hours before the start, but a lot of equipment were already on the roof. Once our stuff was set up, my daughters saw the Sun through the handheld protective film or binoculars while I took photos in intervals.One thing that concerned me was the weather, as it was supposed to be cloudy with a chance of rain that day. While the sky was mostly clear during the early stages, clouds began to build up as we neared the totality.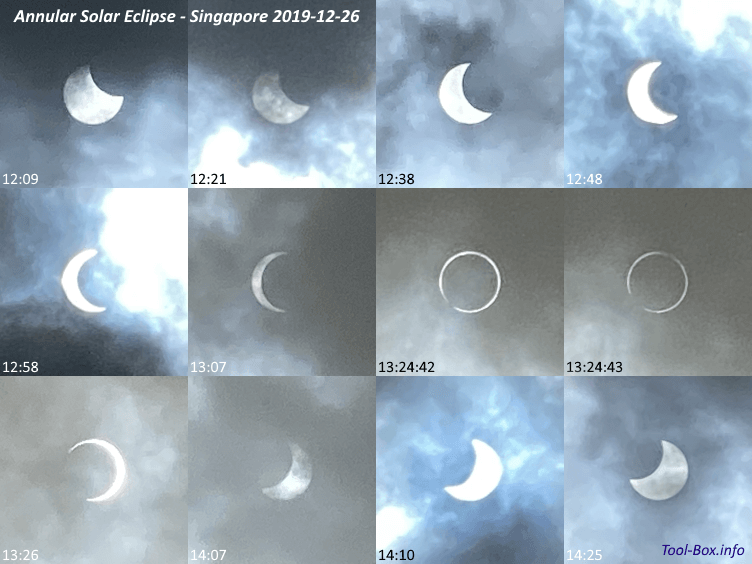 The clouds were both a curse and a blessing. It became cumbersome to track and photograph the Sun through the camera on the tripod, since I needed to fiddle with the settings every now and then. But the clouds often became just thick enough for my iPhone to take the ongoing eclipse directly without any filters, letting me get these nice photos you see above. As a result, both the phone and the camera had their share of the action.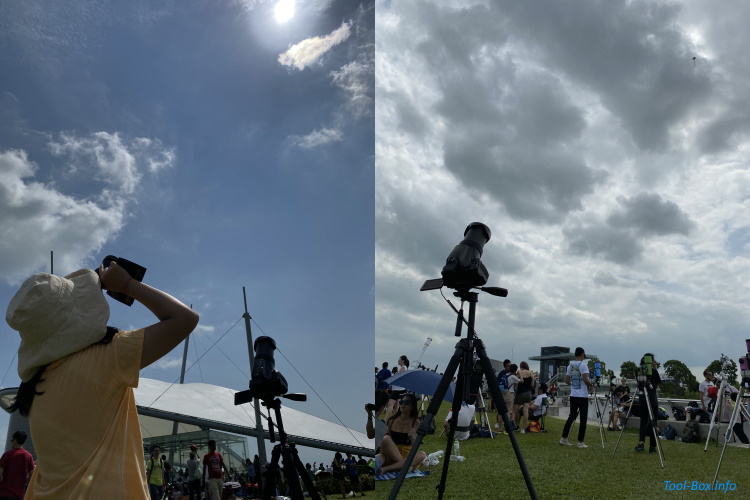 The clouds that moved in about half way through the 2 minutes of totality created a breathtaking view - people could see the "ring" of Sun with naked eyes. That was quite an experience. Alas, the clouds blocking the Sun became thicker and more frequent after that, so they became much more annoying in the second half of the eclipse. I was getting a lot more gaps in the interval photos I was taking, so I finished my session about an hour early and went sightseeing around the Marina Bay with my family to much satisfaction.
Device: iPhone 11 Pro
Settings: 52mm - ISO 20-25 - 1/23810-1/564s - f/2.0
Filters: None
Time: 2019-12-26 12:09-14:25 UTC+8
Location: Marina South, Singapore