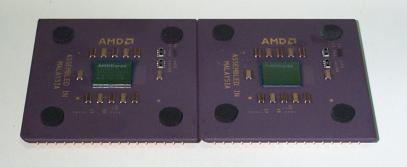 Durons are fragile.. Durons are fragile.. uh..? To confess, I was not being 'nice' to my Duron. Guess what? It died a painful death... yes... I knew those weird sounds were not good..... The Duron you saw in the
last article
is no more, sadly.
Why am I saying that there? Because that 'incident' had apparently left me with two Durons for a while.
Confused? You see, because that Duron 'failed', I had sent it back for a replacement. Wonderful replacement policy at that shop I bought the chip, I tell you. While I was waiting for the replacement to arrive, I had to run the machine anyways, so I got another Duron. I was back on track. And after a few days, the replacement finally came. I pulled out the Duron from the system...
| | |
| --- | --- |
| | |
| 'Green' Duron, Week 25 | 'Blue' Duron, Week 27 |
The surface of the two Durons actually differed! The pictures above were not taken at the same time of the day (sorry about that) but you can clearly see the blue tint on the edges of the core on the right chip while the left chip is generally greenish all around. The 'blue' one was the replacement chip, by the way.
The bluish-greenish tint difference is well-known in the Thunderbird chips. The bluish one is the one from Dresden, and thus using the newer 'copper interconnect' process, while the greenish one comes from Austin, using the normal 'aluminium interconnect' process. The process itself does not account for the colour; rather, the two fabrications use the different polishes and the resulting tint gets different.
Trouble is, Durons are known to be manufactured only at Austin, so normally, Durons are 'green'. But with this 'blue' Duron now at my hand, one would have to wonder what's going on. There's a lot of debate on whether it's really coming from Dresden and using copper interconnects or not, but I just decided to put the two to the test.
What test? Overclocking, of course! Since copper interconnects are known to have better yields of high speed grades, it is possible that the 'blue' one would overclock better than the 'green' one.