After completing the world's first
portable Athlon computer
, it had been on a rather busy public relations charade for a while. It was even featured on SEK 2001, one of the biggest computer shows held in Korea. Here are some pictures.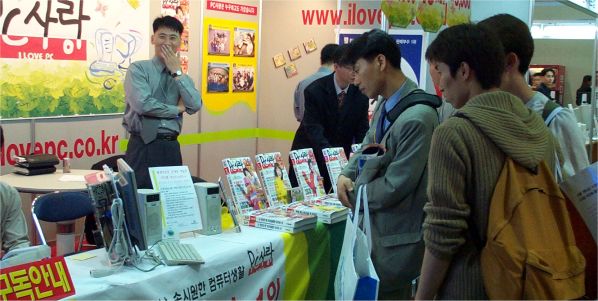 The Portable Athlon was borrowing a booth of '
I Love PC
', a popular monthly magazine in Korea.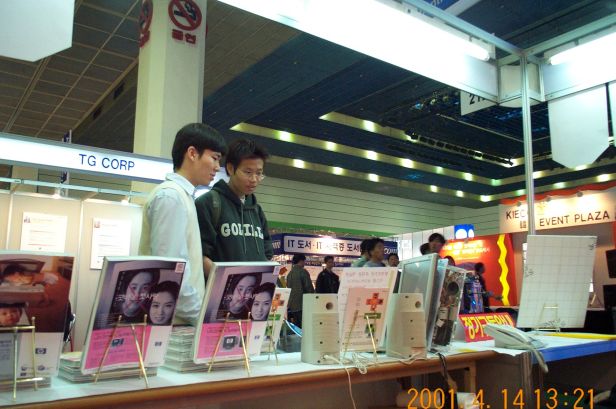 Some teenage visitors were eagerly watching Portable Athlon running 3DMark2001 demo loop. Many thought that the demo was actually some sort of video clip, testifying the fluidity of the 3D rendering sequence. Clearly, no portable unit at that time had such prowess in 3D performance.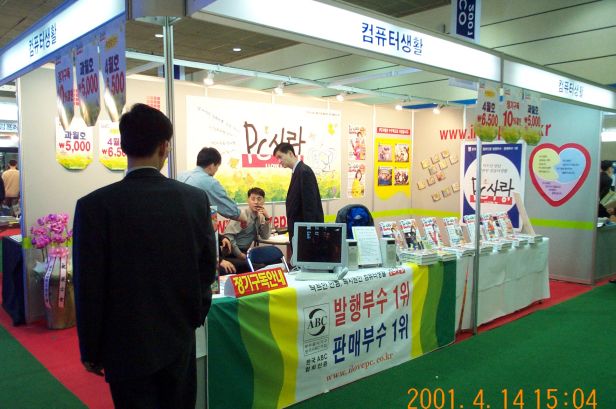 This is how the whole booth looked like. You can vaguely see the Lobby part of the demo running on the screen. By the way, the hanging drape on the bottom is saying that 'I Love PC' magazine is the 1st in both published and sold numbers among the computer magazines in Korea.

So anyhow, I had thought that my goal of 'carrying a desktop computer anywhere and use it at will' was achieved with this unit. This had, unfortunately, not been completely met with success. First of all, this unit did not have any auxiliary power input, requiring 220V AC input (standard for South Korean power outlet since 80's) if I wish to use it. This isn't exactly a major problem, as, due to the relative size of the unit, it needs to be used on a firm surface like a laptop computer, and the usual places I carry it to does sport a power outlet. Then the actual weight and size became sort of problematic. A unit that goes for nearly 10kg isn't truly fit for easy carrying like a usual mobile gear, not to mention the whole rig was tightly packed in a backpack, making it sort of a hiking trip every time I carry it around.
That was okay, I thought, until my health saw a rather rapid decline. I had been hospitalized last August relating to my health conditions. Meanwhile, I had enlisted myself in the army, and I did enter the recruitment camp early September. However, because my medical conditions were ill-fit for military service, I was given a return-home slip within the week. I am listed as 'exempt' regarding military service since late November. This whole mess, while buying me some 26 months of time, left me with lots of concerns. One being that I can no longer do heavy work until my health improves back. My doctor told me that my condition can take forever to get better, so that's apparently not going to happen soon.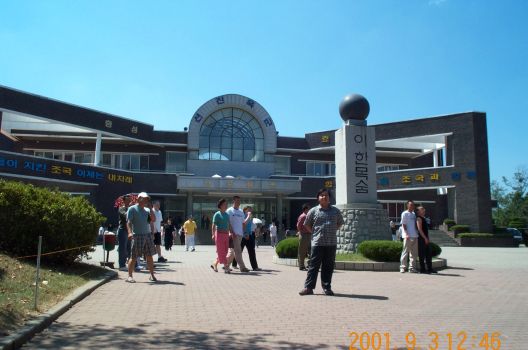 Let's push my gloomy personal business aside though, as the consequences of the past months simply meant that carrying my Athlon computer around was not as feasible as it once used to be in the scope of this article. This meant I needed to go back to the drawing board for another computer design.