The original
Portable Athlon
was signalling its retirement. The highly overclocked GeForce2 MX in the system finally failed, probably due to extensive operation under the cramped environment. The card seemed fine at first, but it invoked hard drive errors during booting (I thought the hard disk had gone bad at first). I think it was sending unstable signals and risking the stability of the system. Also, the case design had very limited expandability, with no PCI extension cards installable, and without a room for a floppy drive or a CD-ROM drive. I was sort of getting annoyed by that. I decided to get over this, and started building a new version. I'll show the journey around with lots pictures.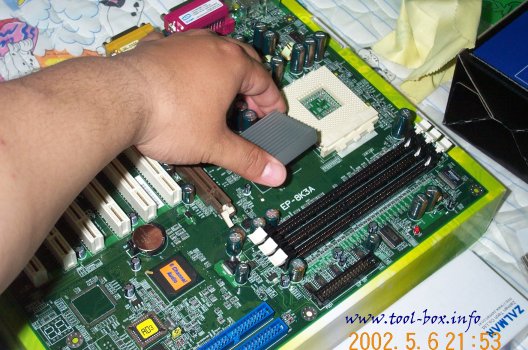 This is the
EPoX EP-8K3A
mainboard with
KT333
chipset, supporting PC2700 (166MHz operation, 333MHz effective speed) DDR-SDRAM and 166MHz FSB. You can clearly see the markings on the surface. Like the original
Portable Athlon
, this mainboard is full ATX, not the smaller microATX that is commonly used in small form-factor or slim-size computers. Back in the original, though, there wasn't much benefit of using a full ATX mainboard in terms of expansion because it was blocked by the power supply sitting all over it. Not this time; those PCI slots would have real use. Here, I'm removing the default northbridge heatsink.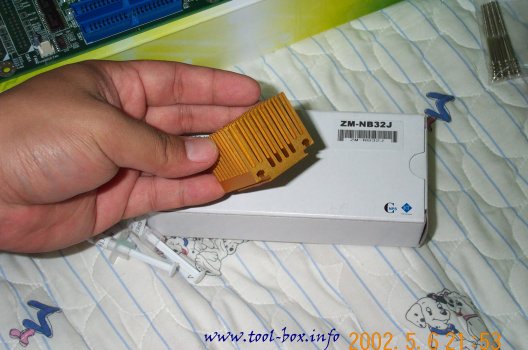 The default heatsink would be more useful somewhere else. I'm going to replace it with
Zalman Tech
's beautifully gold-coloured
ZM-NB32J
northbridge heatsink.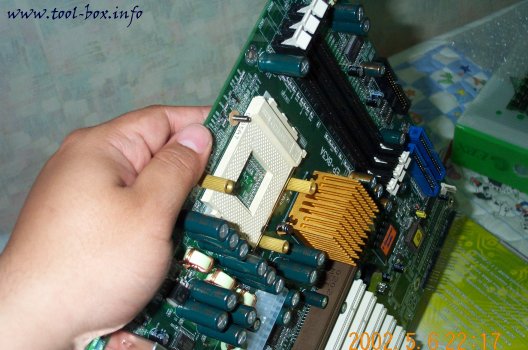 The new heatsink is now in place. Next step is to install a CPU cooler. I am to install
CNPS5100-Cu
, again from
Zalman
, which does not use clips, but four supporting bolts. Therefore, I needed to put the studs on first.